Bio > Mary Anderson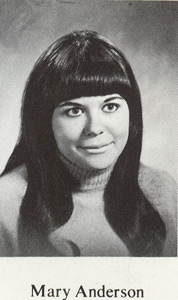 Hello Friends, I live in Centennial, Colorado and have been in Colorado since 1975.  I have two beautiful daughters.  Liz is 29 and received her Master's Degree in Human Sexuality from San Francisco State University.  She is currently working at Children's Hospital in Denver as a Heart Transplant coordinator and also counsels the young adults on sexuality issues.

Amanda is 27 and received her Law degree from the University of Tulsa.  She returned to Colorado, passed the bar exam, and currently has her own Law Firm in Littleton, Colorado.

My husband Ron, of 30 years, died in 2000.  My undergraduate degree was in Medical Technology and in 2005 I finished my Master's Degree in Business from the University of Colorado.  I worked as a Medical Technologist in the Blood Bank at Children's Hospital for 15 years.  I then went to work at Reproductive Genetics Center as a Med Tech and embryologist for In Vitro Fertilization.

While studying for my MBA, I worked as the practice administrator.  After 17 years at RGC, the owner of the clinic retired and I have accepted a new position at the regional blood center in Colorado as the account manager.  I get to travel around the state some and I am looking forward to the next chapter in my story.  I loved seeing everyone at the 40th reunion!