In Memory> Earl Billman

Passed away September 22nd 2012

Earl K. Billman Jr.

Posted on: September 25, 2012 Brainerd Daily Dispatch

Earl Kenneth Billman Jr., age 61, of Brainerd, passed away suddenly on Saturday, Sept. 22, 2012.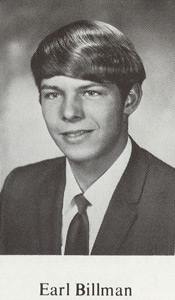 He grew up in the Brainerd area and graduated from Brainerd High School. He married Kathy Blume on July 12, 1986, and they had three children. Jr. loved rock and roll, country music, campfires, and getting together with friends and family to reminisce about the old days.

He is survived by his loving wife, Kathy; children, Jacob, Ramona, and Cameron; grandchildren, Ethan and Kaleb; his father and mother, Earl and Lorraine; brothers, Mitch, Marty; sisters, Wendy and Lana; many cousins, nieces and nephews.


Services will be 10 a.m. on Friday, Sept. 28, 2012, at Nelson-Doran Funeral Home in Brainerd with visitation beginning the hour before services. Pastor Barb Christenson will be officiating.