In Memory > Joel Clabo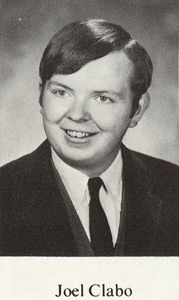 Passed away April 3rd 2004

Posted: Wednesday, April 07, 2004
RED WING -- Joel Wayne Clabo, 53, passed away in his home in Red Wing, Saturday morning, April 3, 2004, from heart failure. He was born in Brainerd and graduated from Brainerd Washington High School. He was trained as an emergency medical technician. He loved the outdoors and dogs and had been an avid fisherman.

He was preceded in death by his parents, Peter and Lillian Clabo, and his former wife, Christine (Licari) Clabo. Surviving him is his brother, Peter Eugene Clabo, wife Ruth, of Brainerd, and sisters Marilyn Heinke, Nisswa, Marion Clabo, St. Cloud, and Marie Murphy, and her husband Pat, Hager City, Wis., and also nephews, nieces, grandnephews and nieces.

A memorial service and burial will be held at the Diamond Bluff Cemetery, Diamond Bluff, Wis., on Saturday, April 10, 2004, at 1 p.m.