In Memory> Richard Hardt

Passed away September 22nd 2007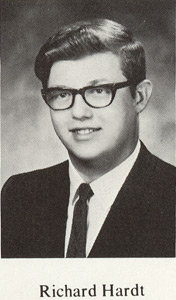 A memorial service for Richard James Hardt will be Thursday at 1 p.m. at Unity Cumberland Presbyterian Church, Hardin.

Following the service, a meal will be served.

Mr. Hardt, 56, Beal Road, Hardin, died Saturday, Sept. 22, 2007, at 6:18 p.m. His death was from injuries sustained in a motorcycle-car accident on U.S. 68 West, Benton.

He worked as a salesman at Sills Four Rivers Harley-Davidson Dealership in Paducah. He was born Aug. 16, 1951.

Survivors include his wife, Mrs. Sally Sandberg, to whom he married Oct. 23, 1971; three sons, James Warren Hardt and wife, Melanie, Tucson, Ariz., Benjamin Hardt and wife, Shelly, Murray, and Charles Richard Hardt and wife, Maritza, Miami, Fla.; five grandchildren, Holly, Andy, Christopher, Daniel and Emily Hardt; his parents, James and Jane Reeve Hardt, Naples, Fla.; two sisters, Mrs. Sheryl Hawks and husband, Michael, Ventura, Calif., and Mrs. Marsha Herder and husband, Rick, Atlanta, Ga. Imes-Miller Funeral Home of Murray is in charge of arrangements.