Bio > Bill Morris

Updated: December 31, 2019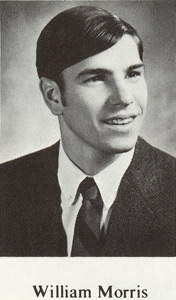 William V. Morris

William Vincent Morris (Bill), age 68, passed away unexpectedly on November 18, 2019 at his beloved cabin in Merrifield, MN.

Bill was born in Grand Rapids, MN on June 25, 1951. He graduated from Brainerd High School in 1969 and worked for the Star Tribune newspaper for 32 years.

He married Deborah Nathan in 1974 and raised three children. Bill retired to his lake home in Merrifield where he enjoyed reconnecting with friends, fishing, and frequenting grandchildren's activities.

One of his greatest joys in life was cooking and sharing food with those he loved. He was a proud grandfather, son, brother, father, uncle, and loyal friend.

Bill was preceded in death by his father William C. Morris. He is survived by his mother Theresa J. Morris; siblings Mark (Pat), Ron, and Teri (Bruce) Barker; children Charissa (Phil) Conn, Wm. Shawn, and Jake; and grandchildren Asher, Josephine, Harper, Olivia, and Kellan; seven nieces and nephews; a wonderful extended family and many close friends.

The memorial service celebrating Bill's life will be held at 11:00 am on Monday, December 2nd at Nelson-Doran Funeral Home: 202 8th Avenue NE, Brainerd, MN. Visitation 1-hour prior. Arrangements with Nelson-Doran Funeral Home.