In Memory> Becky Nelson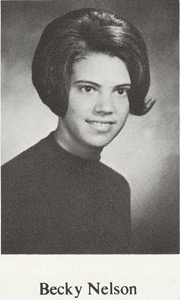 Passed away October 24th 2011

Rebecca 'Becky' (Nelson) Giese

DUBLIN, Ga. — Rebecca "Becky" Rae (Nelson) Giese, age 60, passed into the arms of her Savior at her home in Dublin, Ga., on Monday, Oct. 24, 2011.

She was born in Brainerd, Minn., on Nov. 7, 1950, to Robert and Myrtle (Mays) Nelson. She graduated from Brainerd High School in 1969 and attended North Central Bible College.

Becky spent over 20 years in Florida where she worked and served in her church faithfully. She is known for her accomplishment on the trumpet, having played in high school and for many years on her church worship team.
Becky and her husband Ken had a love of antiques and operated three antique stores.

Becky is survived by her husband Ken, of 25 years; children, Tanya (Jason) Soholt, of Cape Coral, Fla., Trista (David) Kincaid, of Dublin, Ga.; and one stepdaughter, Kendra (Joseph) Marecz. Her grandchildren are Erica Logering-DeCant, Seth Sutton, Devin Hoover, Daniel and Gianna Rebecca (unborn) Kincaid, Alana, Alexis and Joseph Marecz. Also surviving are her mother and sisters, Patricia Nelson (Brainerd, Minn.) and Linda (Wally) DePoppe (Graham, Wash.).

She was preceded in death by her father and sister, Colleen Nelson.

Memorial services will be held at Dexter Assembly of God Church in Dexter, Ga., on Wednesday, Oct. 26 at 7 p.m. and at Faith Assembly of God in North Fort Myers, Fla., on Saturday, Oct. 29 at 2 p.m.

In lieu of flowers, the family requests that donations be made in her memory to: Teen Challenge of Middle GA (3729 US Hwy 441 S., Dublin, GA 31021) as this organization was dear to her heart.
Stanley Funeral Home and Crematory/Dublin Chapel has charge of arrangements.