In Memory> Jeanette Nelson

Passed away April 17th 2017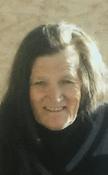 Wednesday, September 12, 1951
Jeanette Ellen (Nelson) Anderson, age 65, of Brainerd, passed away Monday, April 17, 2017 at her home.
Jeanette was a quiet yet fiery person. She enjoyed motorcycles, playing cards and spending time with friends and family, especially her grandchildren. She loved to watch football and was an avid Vikings fan. Jeanette was fascinated by wolves and eagles and loved all animals. She always wanted everyone to be safe and keep smiling.
She is survived by her children, Aaron Nelson, Alisha DeRosier and Matthew Anderson and her grandchildren, Eric, Connor, Jordan, Marx, Ruby and Zoe as well as her sisters Deanna, Debra and Vicki, and brother Randy along with many nieces and nephews.
Jeanette was preceded in death by her parents, Orel and Ruby Nelson, and her daughter, Yvonne Nelson.

Private services are planned.