Updated: 07-01-19

Married since 1990 to Pakawan, a pharmacist, now a Pilates/ fitness instructor. We have one son Sean, 25, who works and lives (with Laura) in Bangkok, after getting his Masters degree at Tsinghua University in Beijing (Bachelors at USC).
I'm still working – since 2014 with USAID in Hanoi, Vietnam – in infectious diseases and global health, after many years with CDC and WHO in Pacific islands, East and Southeast Asia.
My USAID work is full-time, but I recently added a part-time voluntary position as Executive Director of SolHEALTH, an international charity (www.solhealth.org). We currently have one major project in The Gambia, in primary health care, water and sanitation.
Although we live in Hanoi, the Big Island of Hawaii is our "home base" and permanent U.S. residence. We get there only for vacations, which usually include Minnesota too, as one brother and my 97-year Dad still live in Minneapolis. Besides Hanoi and Hawaii we spend time in Bangkok, where we keep a condo.
I have made it to only one reunion (47th) so I am happy to get back for the 50th, and to catch up with classmates. We have enjoyed living in many countries over the last 33 years, but we still think Minnesota is a great place!
So that's 50 years in 10 sentences (minus a few details.)
Mike O'Leary added to the Brainerd High School Distinguished Achievement Hall of Fame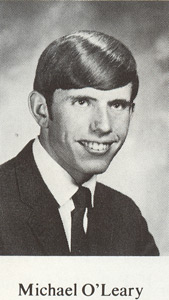 Michael O'Leary's interest in international life was kindled when he spent his junior year in high school as an American Field Service exchange student in Swaziland. He spent the next eight years at the University of Minnesota where he gained a bachelor's degree in anthropology and his medical degree followed by a medical residency at the University of Hawaii. He also obtained an MPH in international health in Hawaii where he completed a second residency in preventive medicine and practiced clinical medicine in Hawaii for four years.

Dr. O'Leary joined the Commissioned Corps of the U.S. Public Health Service in 1984 and entered the Centers for Disease Control and Prevention's Epidemic Intelligence Service, spending most of his time in the state of Washington.

His career in international public health began in 1986 and he spent nearly 20 years working on epidemiology, infectious diseases and international public health surveillance and response in Micronesia, Papua New Guinea, Fiji and Guam. Twelve of those years he was detailed from CDC to the World Health Organization as a medical officer.

In 2005, O'Leary retired from the Public Health Service. In November of 2005 he returned to WHO as a senior manager as WHO representative in Cambodia. He was reassigned this month to Beijing to head WHO's country office in China.

Dr. O'Leary and his wife, Pakawan, have one son, Sean.



July 2011:

Pakawan, Sean, and I have now been in Beijing for 2 years. Sean, 17, will be in 12th grade at an international school, and Pakawan, former pharmacist, now teaches aerobics and Pilates several days a week. I continue as WHO Representative in China, with a staff of about 60 from many different countries. The job involves a lot of travel, in China and elsewhere.
We are now 25 years living outside the US, but get back to Minnesota about once a year, and to Hawaii where we established a base. We are finally building a house on the Big Island (or more correctly, my brother Tom, who builds houses in northern Wisconsin, has relocated to Hawaii to build it for us). We just spent a couple of weeks in the US: Minnesota, Wisconsin, and California – family reunion, plus visits to several potential universities for Sean who, never having lived in the US, wants to head back to his "land of origin" for college.
Pakawan and I start to think about next steps in a couple of years, after China, and after we are only two at home.